New Ways to Help People Beat Opioid Addiction
Researchers and clinicians at Yale School of Medicine advocate a medicine-centric approach to dealing with opioid addiction.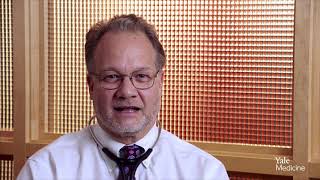 On average, two people die of drug overdose every day in Connecticut. Although the growing availability of the overdose antidote naloxone has saved many lives, the death toll from opioid overdose is still staggering. There's growing recognition that more must be done to stem the rising tide of prescription opioids and heroin.
Governor Dannel P. Malloy hailed efforts by Yale University researchers to help address the problem during a press conference in 2016 at Yale School of Medicine. Four faculty members co-authored a report commissioned by the governor called the Connecticut Opioid REsponse (CORE) Initiative, which he said would become a foundation for his legislative agenda concerning opioids.
This is just one example of how Yale School of Medicine researchers and clinicians are pursuing innovations that could both improve treatment of opioid addiction and introduce new painkillers that are effective yet not addictive.
For David Fiellin, MD, a specialist in addiction medicine and the principal author of the governor's study, the critical question is: How do we treat opioid-dependent people more effectively?
The conventional strategy for ending addiction to prescription opioids or heroin is weaning people off them. This consists of tapering, counseling and ongoing participation in abstinence programs. But Connecticut families have testified to lawmakers about the ineffectiveness of 30-day rapid detoxification programs and "sober houses," or group homes where people recovering from addiction have to stay completely off of drugs and alcohol.
Dr. Fiellin says these approaches often fail. "The prevailing sentiment is to detoxify the patient," he says. "The evidence shows that this is not a uniformly effective strategy and has a high level of relapse."
Instead, he advocates for expanded use of naloxone and increased access to methadone or buprenorphine—naloxone to counteract the effects of overdose and the other two to address withdrawal symptoms. Just as many people addicted to heroin are treated on a long-term basis with methadone, Dr. Fiellin believes that the most effective way to combat prescription opioid addiction is to put patients on a medication-based maintenance therapy, combined with counseling and monitoring, possibly for their entire lives.
He favors starting treatment with buprenorphine because it's less addictive than methadone, has fewer side effects, and is more accessible. It's the first medication used to treat opioid use disorder that can be prescribed straight out of physician offices. Individuals can develop an addiction to prescription opioids through recreational use or having the medications prescribed. Many people purchase the pills illegally when their prescriptions run out, crushing them and snorting or injecting the powder to increase their effect. Others turn to heroin, since it is less expensive and easier to get.
In 2014, Dr. Fiellin published a study in JAMA Internal Medicine with fellow Yale faculty members that showed patients who were given a steady dose of buprenorphine over 12 weeks were much less likely to relapse into opioid use than those who went through taper therapy, which gradually lowered the dose of medication over three weeks. Last year, Dr. Fiellin published a study in JAMA with Yale Medicine's emergency medicine chair, Gail D'Onofrio, MD, which found that opioid-dependent patients admitted to the emergency room who received buprenorphine in the ER and on an ongoing basis were nearly twice as likely to stay in treatment—compared to patients who were referred to community-based treatment centers.
On a mission for the governor
During the press conference, Gov. Malloy said, "Connecticut spends over $65 million a year on treatment for opioid dependency. This plan will help ensure that those dollars are spent on the best and most effective ways possible." The CORE team's plan proposes six strategies for addressing the opioid epidemic, including increasing access to high-quality treatment with methadone and buprenorphine and increasing access to naloxone.
Gov. Malloy reached out to Dr. Fiellin last spring, asking him to study treatment and policy options and make recommendations that could help shape Connecticut's response to the opioid epidemic. Fiellin recruited Dr. D'Onofrio, Yale School of Medicine faculty member William C. Becker, MD, and Yale School of Public Health faculty member Robert Heimer. The team raced to prepare a report within 90 days, jumping on weekly conference calls with commissioners, state agencies, and the governor's office and traveling all over the state to meet with representatives of local organizations working on the crisis.
While Dr. Fiellin is emerging as one of the leading advocates globally for the use of medicine-based treatments for prescription opioid addiction, another Yale School of Medicine faculty member aims to dramatically reduce the use of opioids as painkillers—helping individuals to avoid becoming addicted.
Finding alternatives to addictive painkillers
Stephen Waxman, MD, director of the Center for Neuroscience and Regeneration Research at Yale School of Medicine, has spent over a decade researching effective non-addictive painkillers as alternatives to opioids. To do this, Dr. Waxman has been working with patients suffering from a debilitating genetic illness called "man on fire" syndrome, which causes searing pain in response to even moderate heat, pressure, exertion or stress. By studying these patients, Dr. Waxman has pinpointed the genetic mutation that causes an increased sensitivity in pain-signaling neurons. A similar sensitivity causes chronic pain in normal individuals without man on fire syndrome.
Medicines that target specific nerves and prevent them from sending pain signals without affecting the brain are now entering clinical trials. The initial results are promising. If approved, these drugs could become widely used, non-addictive painkillers.
Over the last couple of years, Dr. Waxman has fielded dozens of phone calls from parents of children suffering excruciating pain from man on fire syndrome. Their stories have given Dr. Waxman a sense of personal responsibility for finding a solution to pain. "It was a transformative moment when I could change my response from 'Please know we're trying to help your child,' to saying 'I'm reasonably confident that at some point we can help your child,'" he says.
Dr. Waxman has also been working on a technique called "pain in a dish," which uses precision medicine techniques to provide patients with targeted pain-relieving therapies. His initial research suggests that in the future, patients could go into a doctor's office with severe pain, provide a tissue sample, and receive a pain medication targeted specifically to reduce their pain based on their unique DNA. This would eliminate "trial and error" prescribing of medications for pain.
A number of other Yale School of Medicine researchers are also making significant contributions to the pain relief and addiction fields. Among them is Patrick G. O'Connor, MD, chief of general internal medicine, who led the way to office-based treatment with buprenorphine.
The year 2016 was horrible for Connecticut families touched by the opioid crisis. Fentanyl-laced heroin caused a rash of deaths across the state and the number of overdose victims who have died from opioid mixtures surpassed the total number from 2015. However, with researchers at Yale working swiftly to expand access to effective treatment options and prevent addiction, relief for the pain caused by the opioid epidemic may be on the horizon.